Posted by AIW on Nov 19th 2021
Arma Ship Supply, the gem of Turkey.
Arma Ship Supply has made history in the industry with two decades of excellent services and continuous innovation. Their high-quality services coupled with fast-paced service delivery are positioning Arma Ship Supply as a key player on the ports of Turkey. Therefore, you must know everything about Arma Ship Supply especially if you are related to the Ship industry or a resident of Turkey. So, let's dive straight into it and understand everything you must know about Arma Ship Supply.
New Identity of Arma Ship Supply
The initial name of Arma Ship Supply was Arma Marine Services but it was changed in 2019. In 2019, the company changed its international business name extension from Marine Services to Ship Supply. This change shows that Arma Ship Supply is shifting and focusing toward the ship supply side of the business. Therefore, the company changed its International Name from Arma Marine Services to Arma Ship Supply and changed its website from armamarine.com to armashipsupply.com.
History of Arma Ship Supply
Arma Ship Supply is located in Izmir Turkey and it was started in 1993 as Arma Marine Services with a vision to provide quality services to marine traffic. However, the company outgrew its business model within its first decade. Therefore, in 2014, Arma Ship Supply started the process to redesign its supply chain by combining its headquarters, local warehouse, and transit warehouse into one. This process was completed in early 2016 but the two-year process of redesigning the supply chain is providing a huge competitive edge to Arma Ship Supply to this day. This huge competitive advantage can be seen in the shape of improved communication, quotation speed, and quicker, more flexible customs formalities.
The footprint of Arma Ship Supply
The footprint of Arma Ship Supply can be seen on all the Turkish Ports and even in the International waters. Here is a brief sketch of all the Turkish Ports to help you understand the footprint of Arma Ship Supply.
Arma Ship Supply provides supply in all the Turkish Ports, Shipyards, and Straits around Turkey while it is headquartered in Izmir, Turkey. The headquarters in Izmir, Turkey consist of Main Depot, Transit Goods Warehouse, and Local Goods Warehouse along with other facilities. Arma Ship Supply operates with one headquarters and four branches and here is the detail of its operational footprint.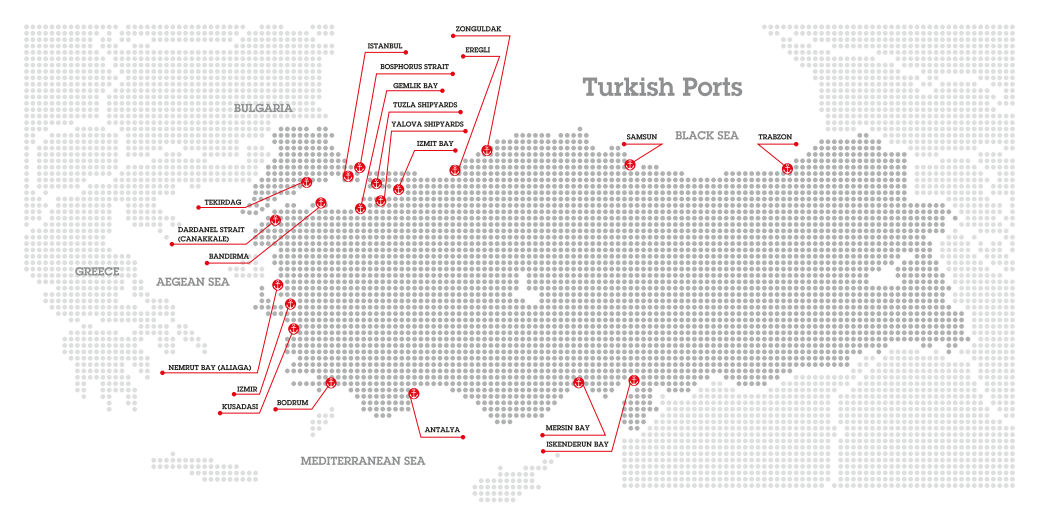 alt="arma-supply"
Operational Footprint of Arma Ship Supply
Sr. No.
Office Name and Location
Type of Office
Coverage/Operations
1
Headquarters Izmir, Turkey
Headquarter
All Turkish Ports, Straits, and Shipyards.
2
Branch Tuzla, Turkey
Local Goods Warehouse
For supplies at Tuzla and Yalova shipyard areas and Izmit Bay
3
Istanbul, Zeyport
Operational Branch Office
For supplies at Istanbul and Bosphorus Strait
4
Bandirma
Operational Branch Office
For supplies at Marmara Sea Ports, Dardanelles Strait, and Canakkale
5
Iskenderun
Operational Branch Office
For supplies at Iskenderun, Dortyol, Ceyhan, and Mersin
Why Arma Ship Supply is a trusted supplier? (Accreditation, Certificates, and Memberships)
Arma Ship Supply is a trusted supplier because it has more than two decades of experience, credible accreditations, certificates, and memberships of credible institutions. Here is a quick review of what it means.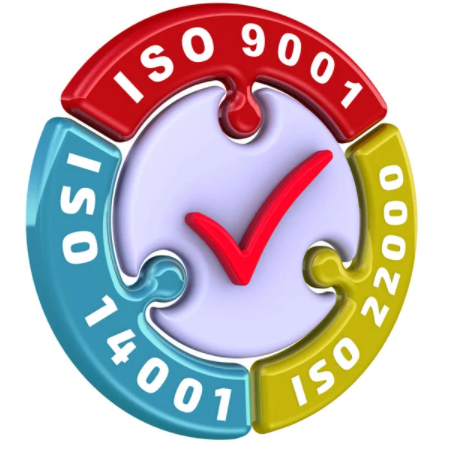 alt="iso-9001"
Certificates of Arma Ship Supply that shows it is a trusted supplier.
Following are International benchmark certificates that are achieved by Arma Ship Supply. Let's understand what it means for you.
ISO 9001 Quality Management System
Quality is the key indicator of amazing services. However, it was not possible to comprehend the quality of any service provider before ISO certificates. Now, ISO 9001 is the benchmark quality standard that is accepted on the International level. Arma Ship Supply holds the recognition of ISO 9001 Quality Management System because it adheres to the following seven principles at international standards.
1.Customer focus
2.Leadership
3.Engagement of people
4.Process approach
5.Improvement
6.Evidence-based decision making
7.Relationship management
ISO 22000 Food Safety Management System
Arma Ship Supply is ideal for provisions supply because it adheres to the procedural guidelines of ISO 22000 Food Safety Management System. It depicts that Arma Ship Supply works according to international standards that demand a high class of safety and management.
Here, it is worth noting that ISO 9001 Quality Management system is principle-based but ISO 22000 Food Safety Management System is a procedural system that demands a high level of efficiency and efficacy in the system of the organization. Therefore, the certification of ISO 22000 Food Safety Management System by Arma Ship Supply is its key competitive advantage over other suppliers in the industry.
ISO 14001: Environmental Management
Climate change is a harsh reality of today's world. Businesses and clients around the world are becoming aware of the environmental emergency. On top of that, regulatory authorities are implementing strict measures for companies to adhere to the requirements of environmental sustainability. Therefore, the ideal ship supply company should adhere to environmental regulations. Hence, Arma Ship Supply started adhering to these regulations before time and earned a certificate of ISO 14001 of Environmental Management. Arma Ship Supply has done the following five steps procedure to become one of the ISO 14001 certified suppliers.
Plan: In this step, Arma Ship Supply established objectives and processes required
Do: In this step, Arma Ship Supply implemented the processes decided in the previous step
Check: In this step, Arma Ship Supply measured and monitored the processes and reported results
Act: In this step, Arma Ship Supply took actions to improve the performance of EMS based on results
Continuous Improvement: In this step, Arma Ship Supply is committed to ensuring continuous improvement
Memberships of Arma Ship Supply shows it is a trusted supplier
Reputation matters! It is evident that the company is doing something right or doing something wrong. Therefore, reputation is the key indicator to measure the worthiness of the company. However, who is better to judge the worthiness of a company than its fellow companies or organization? Certainly, no one! Therefore, membership of a company in reputable organizations and institutions is taken as hard evidence of its worthiness. Hence, to measure the worthiness of Arma Ship Supply, we have to see if it is accepted in reputable institutions or not. Consequently, we have to consider Arma Ship Supply as a trusted supplier because it has a reputable position in its industry and it has a membership of the following:-
Member of ISSA
Member of IMPA
Member of TURSSA
ARMA also takes part in TRADENET
What services does Arma Ship Supply offer?
Arms Ship supply offers the following major services:
1. Ship Supply (Provisions / Technical stores)
Arma Ship Supply offers two kinds of ship supply, provisions, and technical store. The provision supply offers all kinds of provisions that are required by cabin crews and ships while the technical store handles all kinds of technical provisions.
The provision ship supply includes every provision ranging from dry fruits to fresh fruits and from pork meat to pasta. Almost everything is available, even fresh vegetables and seafood is also ready to be supplied. Here are some of the most popular provisions by Arma Ship Supply:
Dairy products
Frozen foods and goods
Dry Goods
Fresh vegetables and fruits
Slop chest
Bonded stores
Technical stores of Arma Ship Supply provide all the required technical equipment ranging from mooring rope to double diaphragm pump at a competitive price. Following are some of the popular offerings of technical stores.
Marine chemicals and paints
Navigation equipment
Container lashing equipment
Mooring ropes, anchors, and anchor chains
Cabin stores
Deck stores
Engine stores
Electrical stores
Safety equipment
Medical equipment
2. Ship Repair
Arma Ship Supply has not limited itself to only shipping the provisions, rather it provides ship repair and related services for vessels. Arma has an extensive network of long-terms suppliers who provide all the required services and equipment. Furthermore, Arma has in-house experience coupled with two offices near major Turkish shipyards areas. Therefore, whenever required, the shipyard can be visited to discuss everything on-board with the superintendent or captain.
Following are the services that are provided by the Arma Ship Supply repair and service segment:-
Hold cleaning of your vessels
Safety equipment inspection service for whole vessels
Inspection and repair of pumps
Underwater inspection and cleaning
Firefighting equipment service
Deck equipment testing
Furthermore, the following additional services are provided in ship repair.
Repair, overhauling, maintenance of all M/E ad Auxiliary Engines
Electric motor rewinding for all the motors of vessels
New buildings and big repair projects
Reconditioning of used parts in the equipment of vessels
3. Safety Survey Services
Arma Ship Supply provides trustable safety survey services to ships and other vessels in the industry. The safety survey services include all the survey and inspection that is related to the stability of the infrastructure and safety of the people at home. Hence, Arma Ship Supply can do a complete survey regarding firefighting infrastructure, safety equipment inspection, underwater inspection of the vessels, and deck equipment safety testing.
4. Offshore
Arma Ship Supply is one of the best choices for partnering any offshore operations especially in the Mediterranean and the Black Sea. It is so because Arma Ship Supply has decades of experience in the offshore supply and it has supplied to many offshore operations and platforms with the help of its vast network and short lead times.
5. Cruise & Navy
Cruise ships have very specific demands and Arma Ship Supply is the ideal supplier for the cruise sector. Arma Ship supply always remains ready to supply any cruise ship that is calling Turkish cruise ports such as Istanbul, Kusadasi, Bodrum, Antalya, Izmir, and Cesme. Cruise Ships can request any provision and supply ranging from fruit to vegetables and from ropes to AODD's.
Navy supply is a very critical, standardized, and unique job and Arma Ship Supply is a proud partner of the navy of various countries. It supplies the navy with various services like at home and by supplying crew's native products.
6. Spare Parts
Spare parts availability is the secret sauce behind instant repair and continuity of the vessels' journey. Therefore, it holds key importance in the industry. When a vessel breaks down in the middle of the journey or before the journey, it costs a lot of money in terms of wasted time. Therefore, vessels need quick availability of spare parts for immediate repair. Arma Ship Supply has decades of experience in dealing with urgent requests. Hence, it provides quick assistance and takes care of any situation quickly. Following are the four competitive advantages of Arma Ship Supply in terms of spare parts handling.
In-house customs officer
One stop shop
Offices nearby airports
Spare parts stock ready to ship
7. Logistic Services
Arma Ship Supply offers matchless logistic services in the industry. They have perfected the craft of logistics services due to their above two decades of continuous services. Arma Ship Supply has an extensive distribution network that contributes to its ability to provide dedicated and shared warehousing solutions to its client. On top of all that, Arma Ship supply offers the following value-adding services and solutions.
Warehousing
Inventory management and control
Order administration
Barcoding, repackaging, labeling, and quality inspection
Order processing, inbound and outbound
Reverse logistics
Conclusion
In conclusion, Arma Ship Supply is one of the best ship supply companies in ithe region. It has experience of more than two decades and it has perfected the craft of providing services to ships and vessels. Furthermore, it adheres to all the international standards that can be expected from the leading service providers in the industry. Moreover, it provides all the necessary services that can be required from any ship or vessel, these services include providing everything from fresh fruit to a double diaphragm pump . On top of that, all the services are readily available on all the Turkish ports, straits, and shipyards.